Loading

---

---

---

---

---

---

---

---

---

---

---

---

---

---

---

---

---

---

---

---

---

---

---

---

---

---

---

---

---

---

---

---

---

---

---

---

---

---

---

---

---

---

---

---

---


BUSINESS FOR SALE


---


SwaddleDesigns



---







---

TABLE OF CONTENTS

FASHION

SPRING 2014 DESIGNERS' PREVIEWS

SPRING 2014 BEST SELLERS - BUYERS' PICKS

SPRING 2014 EDITORS' PICKS

SPRING 2014 GIRLSWEAR (facebook album)

SPRING 2014 DRESSES (facebook album)

SPRING 2014 BABYWEAR (facebook album)

SPRING 2014 BOYSWEAR (facebook album)

SPRING 2014 FOOTWEAR (facebook album)




---

---

MORE FASHION

AUSTRALIAN BRANDS

BRANDS BY PRODUCT CATEGORY

CANADIAN BRANDS

EUROPEAN BRANDS

MARILYN KIRSCHNER'S TRADE SHOW REPORTS ARCHIVE

TINA BARRY'S TRADE SHOW REPORTS ARCHIVE

---

---

OTHER INFORMATION

ASSOCIATIONS DIRECTORY

BUSINESS FOR SALE

CONSULTING SERVICES

CONTRACT SEWING

CREDIT AGENCIES

DESIGN SERVICES

GRAPHIC DESIGN SERVICES

INDIA MANUFACTURERS

MAILING LISTS

MANUFACTURER REPRESENTATIVES DIRECTORY

MANUFACTURER SALES REPS WANTED

NEWS BRIEFS - 2013

NEWS BRIEFS BY YEAR

SUBCRIPTION OPTIONS

SUPPLIERS SHOWCASE

TRADE SHOW CALENDAR

TRADE SHOW CALENDAR BY MONTH

WAREHOUSE/SHIPPING

---

---

A - Z FEATURED SPONSORS

- A.Bird

- Aigle

- Ambajam

- Ambition

- Amelia

- Appaman

- ArtWalk

- Babidu

- BabyCZ

- Blush

- Boboli

- Bubele

- CeCeCo

- Coccoli

- EcoBibi

- Jaxxwear

- Joyfolie

- JP Lizzy

- Kai

- Kashka

- Koolmono

- Kushies

- LamanBlu

- Losan

- Me Too

- Mim-Pi

- Mini ZZZ

- MishMish

- Miss b

- MoHao

- Nosilla

- Oilily

- Pazitos

- Pea Soup

- Picaroz

- Seam

- Siaomimi

- SnoPea

- Trimfoot

- Val Max

- Wheat

- Zolo

- Zupers

- Zutano

---

---

SALES REPS & IMPORTERS SPONSORS

NEW YORK:

WEST COAST:

SOUTHEAST:

NATIONAL/NORTH AMERICA:

---

---

- AmericasMart Atlanta

---

WHOLESALE AND RETAIL SUPPLIERS SPONSORS

- 34 W. 33rd St. (Adams Real Estate)

---

-James Girone

---
FALL-WINTER 2014 FASHION PICKS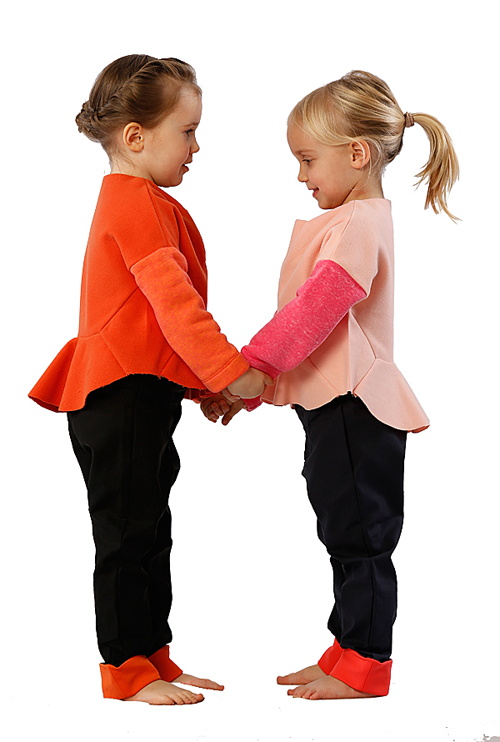 Sophia Ven at JuJuBe Kids balances warm shades of pink, coral and orange with black and gray, for a keep-her-cozy feeling. When Ven employs straight lines in her silhouettes, they usually conclude with a curve or peplum, such as the two-tone Felt Top with unusual seaming and a front frill, worn with the Block Pants. (Fits 3 to 8 years, $20-$40 wholesale.) For more information, call 415-692-5280, or visit jujubegroup.com. (designer preview)


---

Harjot Gill describes Kikli Design's fall-winter 2014 collection as "inspired by the gardens of England and the royal traditions of Great Britain, with the iconic English rose prominently featured." If that description conjures up images of formal dresses in traditional floral designs, forget it. Dresses like the Sophia bring you up close to cabbage roses in full bloom on a dress that's more about a casual cup of tea in the garden than a formal tea in the afternoon. (Fits 12 months to 8 years, $31-$33 wholesale.) For more information, call or visit kiklidesign.com. (designer preview)


---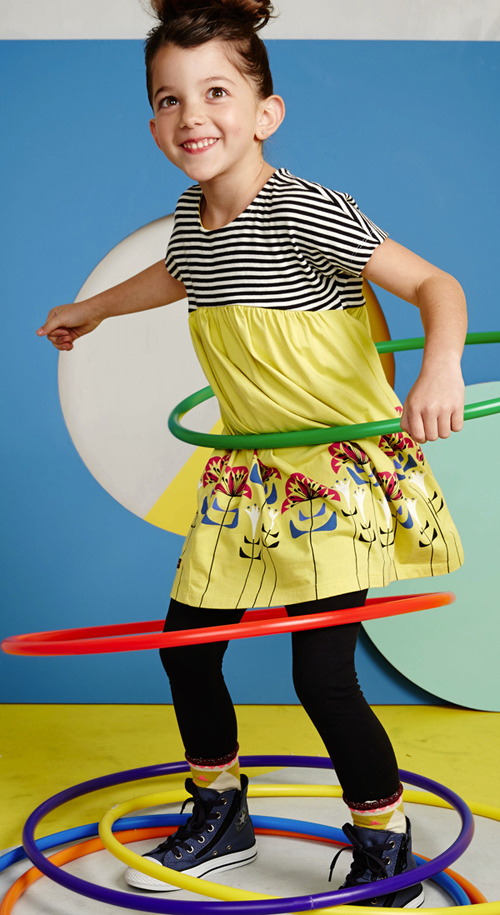 For fall 2014, Tea Collection looks through a modern lens with cleanly interpreted folkloric graphics, rugged plaids and a palette rich in moody brights and rich neutrals. (Fits NB to 12 years, $10-$49 wholesale.) For more information, call 617-733-9183, or visit teacollection.com. (designer preview)


---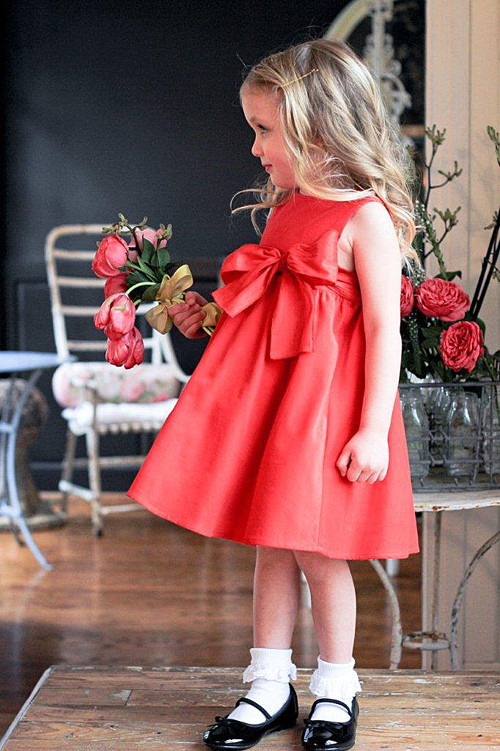 Malley & Co. offers several groups in Malley Too that include casual Jersey knits to true wedding couture dresses. Here, a charmer from the Charmed group: a dress that stops the show with a simple silhouette and a fresh shade of pimento. (Fits 2T to 16; $17-$40 wholesale.) For more information, visit malleyandco.com. (editor's pick)


---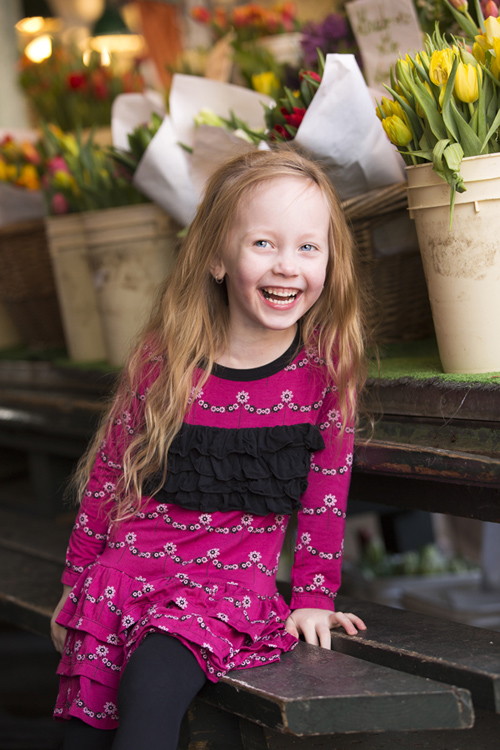 Take a "sneak peek" at Kickee Pants' cute new Print Banner Ruffle Dress for fall 2014. The soft cotton knit frock - shown here in the Berry Wallpaper print - sports a lush ruffled bodice and triple-tiered skirt. (Fits NB to 10 years, $24-$26 wholesale.) For more information, call 310-492-5707, or visit kickeepants.com. (designer preview)


---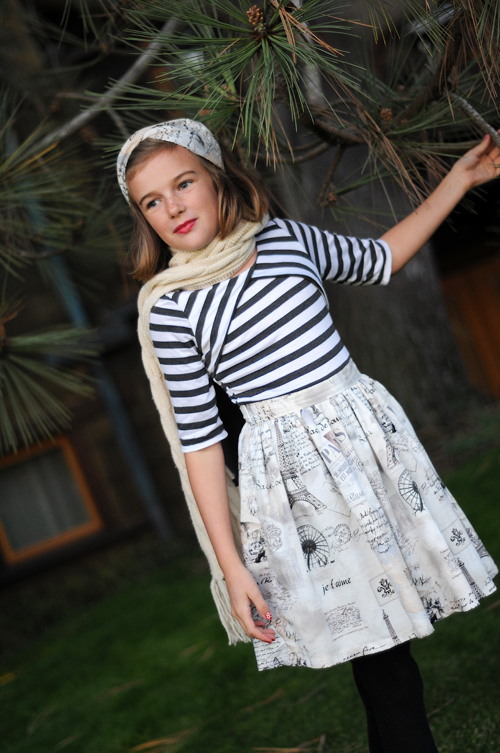 In another life, Heather Haas was a French starlet circa 1960. Her Fiveloaves Twofish's fall 2014 collection of dresses and sportswear reflects a penchant for Parisian-themed patterns and styles with a certain je ne sais quoi. Here, a born mix-master, Haas pairs a striped T-shirt with a pretty crisscross front with a full dirndl skirt in a print that evokes a French love letter. (Fits 4 to 16, $18-$47 wholesale.) For more information, call 619-434-7930, or visit fiveloavestwofishclothing.com. (designer preview)


---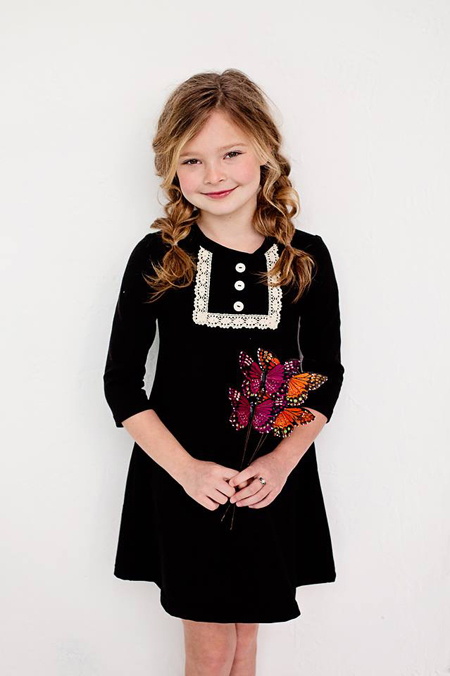 She's modern but appreciates vintage style. She has her own unstudied style. She's a girly-girl who has a good time on the playground. That's the All the Number's child: confident, charming, wearing "enchanted clothes for little heroines." For fall 2014, she's wearing the knit A-line Dress with a sweet bib detail. (Fits 3 months to 6 years, $18-$32 wholesale.) For more information, call or visit allthenumbers.net.


---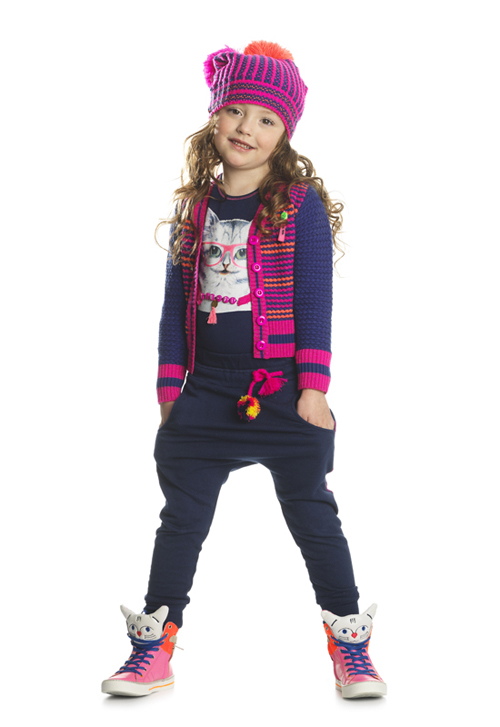 Mim-Pi designer Eleonora Nieuwenhuizen's needles have been clicking as she crochets and knits delightful tricots, huggable yarns in a rainbow of royal, hot pink and jade that will tip the happiness scale. Inspired by knit-cafés and crochet workshops, the designer's fall-winter 2014 collection is the antithesis of mass-production: collars resemble grandma's afghan squares and pompoms dangle from necklines, waists and hems. For feline aficionados, images of kittens are woven throughout the collection. There's even a hoodie dress with cat ears! (Fits 6 months to 10 years.) For more information, call the curlygirlsinc.com showroom at 212-967-6457, or visit mim-pi.com.

---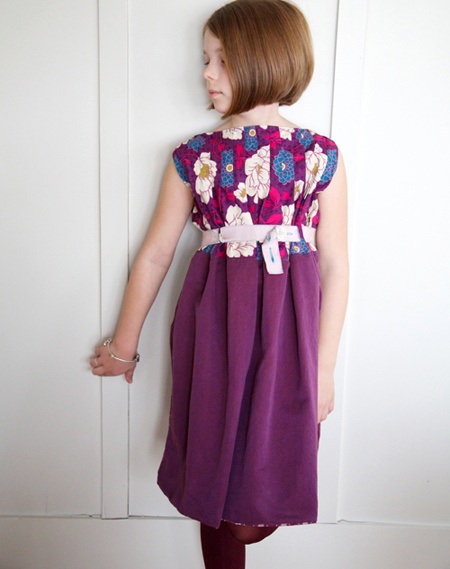 Cindy Estes debuts a luxurious new Seam Collection for fall-winter 2014. Rife with sueded silk, silk and cotton blends, dense polar fleece and baby wale corduroy, the line features three botanically-inspired patterns colored in dark jewel tones and easy, coordinating basics. The Priscilla Dress in the Dahlia print shows off Estes' eye for unusual seam treatments and unique embellishments. (Fits 2 to 16, $17-$49 wholesale.) For more information, call 617-803-3490, or visit seamcollection.com. (designer preview)


---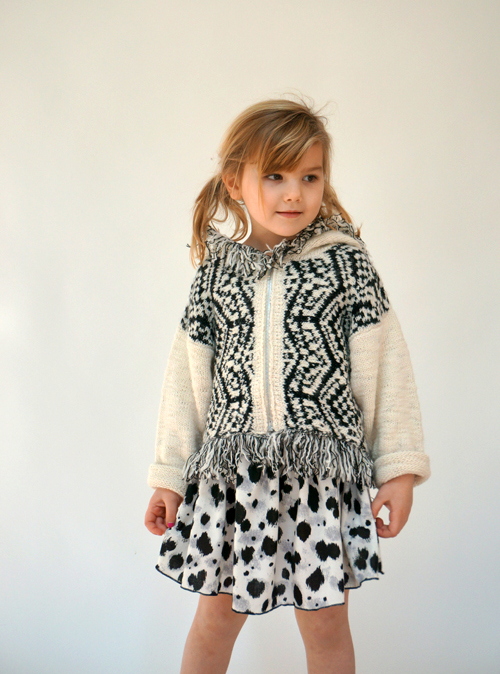 Opposites attract at Girl and a Mouse's fall 2014 line. Nicola O'Connell likes to play with opposing patterns: a bright Peruvian woven jacket over a sparkly party dress, or a fringed ski sweater over a chic animal print frock. She's big on knits this season. (Fits 3 to 10 years, $27-$61 wholesale.) For more information, call or visit girlandamouse.com. (designer preview)


---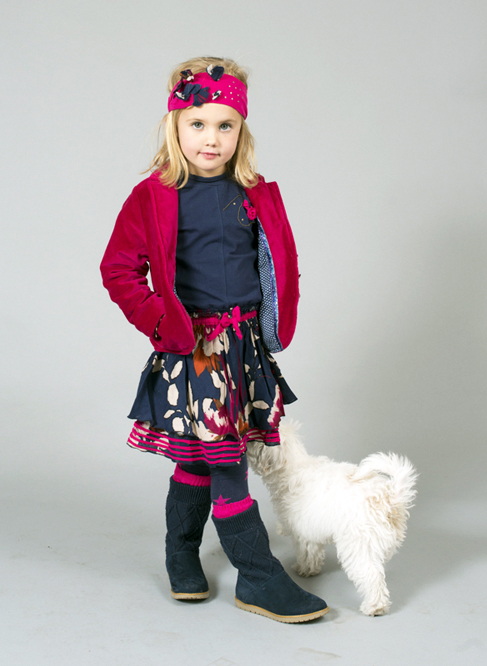 For fall 2014, Eliane et Lena's colors go rich: charcoal deepens to inky black, cobalt turns to saturated navy, rose turns to fiery geranium, and pimento and cherry red get as dark as it goes. And it goes everywhere: head to toe, solid and in prints, on outerwear and tights. White is important in its relationship to black and gray. As for prints, you'll fall for dogs and cats, American Indian motifs, and dramatic florals. (Fits 1 month to 14, $16.50-$69.50 wholesale.) For more information, call 480-619-5515 or visit elianeetlena-usa.com.


---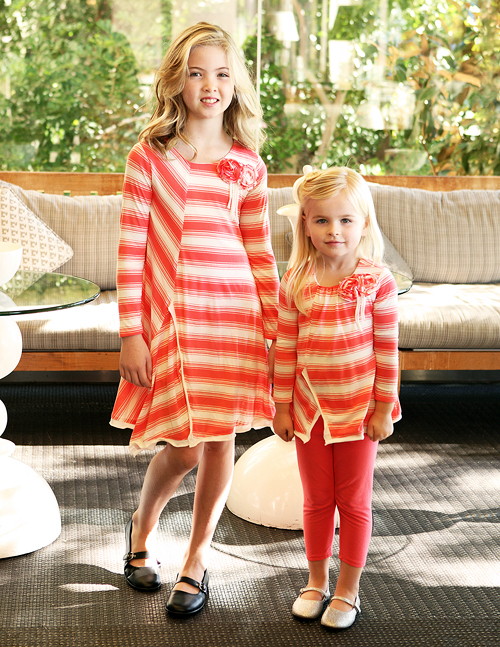 Isobella & Chloe's fall 2014 collection offers sportswear and dresses with feminine features and novelty fabrications. The Penny Lane's dress and two-piece set works trendy coral into sweet striped items. (Fits 12 months to 14, approximately $20-$30 wholesale.) For more information, call 626-457-8823, or visit isobellaandchloe.com, curlygirlsinc.com. (designer preview)


---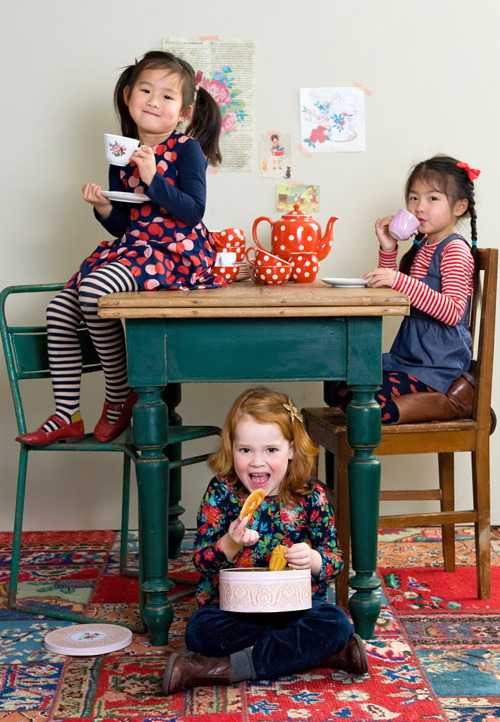 If it's saturated color and gardens in bloom you're after, Room Seven is the collection to source. For fall 2014, the items range from striped tees, to dense floral tunics, to heart-printed tights and subdued knitwear. (Fits 12 months to 12 years, $14-$80 wholesale.) For more information, call the Rachele Charles Inc. showroom at 928-445-6540, or visit room7usa.com.


---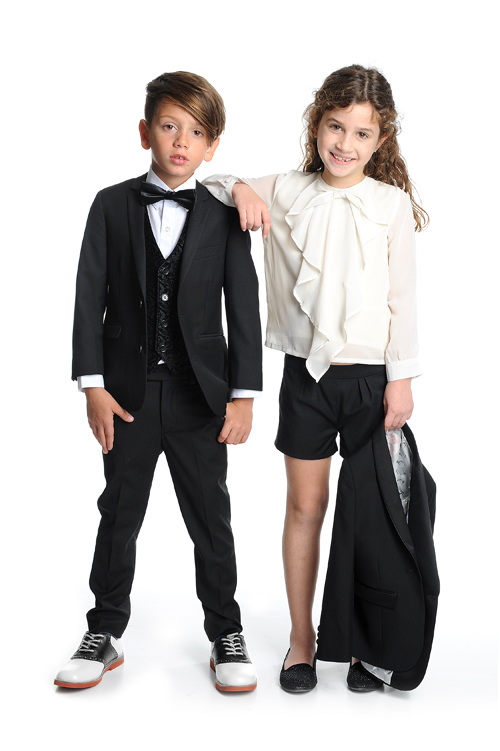 Boys and girls rock Appaman's modern suiting for fall 2014. The boy's suit and vest is cut lean; a big bow on the girl's blouse softens the edges of a trim jacket and playful shorts. (Girls: 2T-10 years, boys: 2T to 14 years. $23-$68 wholesale.) For more information, call 212-460-5480, or visit appaman.com.


---



MORE SPRING/SUMMER 2014 BEST SELLERS

MORE SPRING/SUMMER 2014 PREVIEWS

MORE SPRING/SUMMER 2014 EDITOR'S PICKS