June 26, 2018 – Elegant Baby is announcing the opening of its corporate showroom in AmericasMart Atlanta Building 3, 13th floor suite 336A. You can find Elegant Baby displayed in the heart of the children's apparel market on the thirteenth floor in building three. The warm, inviting and modern space in AmericasMart provides buyers the opportunity to see, feel and experience the range of quality products and work directly with an Elegant Baby representative.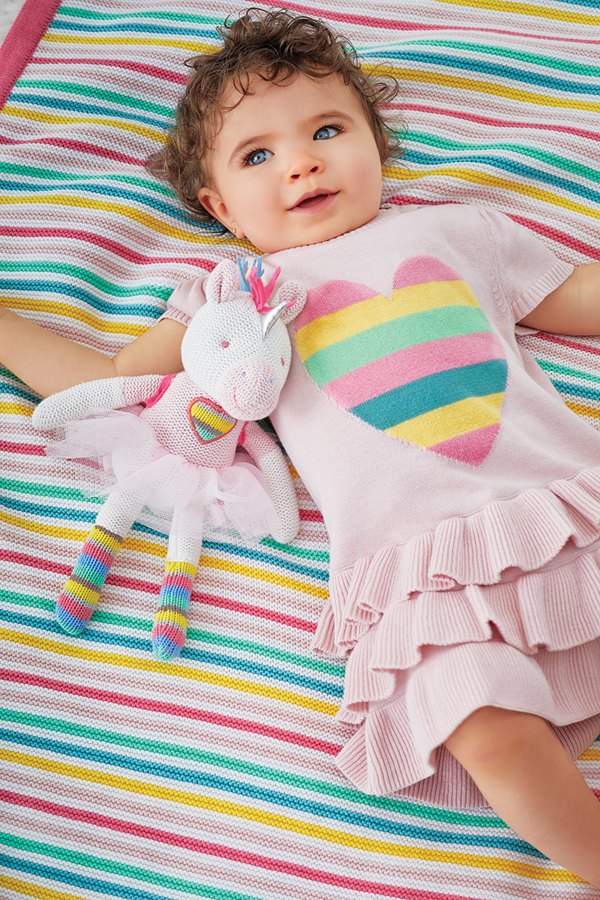 Elegant Baby has spent its tenure devoted to providing quality baby gifts as one of the most trusted, legacy retailers in the industry. The brand specializes in making priceless moments with precious little ones even more special. The Atlanta showroom is an opportunity for retailers to experience the true elegance of the Elegant Baby brand.
The AmericasMart showroom is set up and represented by Summer Place, an Earnie award-winning sales agency based in Atlanta. The new room is filled with high-quality products for new parents and grandparents, as well as both personal and corporate gift-givers. From cotton velour terry bath wraps to personalizable plush blankets and toys, there is a quality baby gift for every occasion.
Additionally, buyers can come by and kick their feet up and seek visual inspiration for decorating and merchandising their stores. The aesthetic appeal of the room provides buyers with an ethereal experience with a display that includes floating clouds, twinkling stars and natural materials that truly embody Elegant Baby's soft touch. For appointments, please contact or visit Brittany Harrell of Summer Place by phone at 770-444-0776 or visit www.summerplacereps.com.
We are also pleased to announce the expansion of our baby boutique within Fieldstone's showroom in AmericasMart building 2, suite 912. This is another opportunity to connect and collaborate with retail partners in the gift and home markets in an environment that reflects Elegant Baby's modern and updated approach to a heritage brand. Fieldstone represents Elegant Baby in their gift and home specialty stores throughout the Southeast, Northeast, New England and Midwest states. For appointments or to request a visit from a Fieldstone consultant, please contact by phone at 888-977-5650 or email at info@fieldstonemarketing.com.
Founded in 1967, Elegant Baby is a legacy baby lifestyle brand in its second generation of operation. With the goal of providing the best quality baby gifts in both style and craftsmanship, Elegant Baby balances playful contemporary designs with classic baby essentials. Elegant Baby products are currently available online at www.elegantbaby.com and through fine retailers like Bloomingdales, Nordstrom, Saks Fifth Avenue and other fine specialty boutiques. For more information about Elegant Baby, please contact janannevalentin@elegantbaby.com, 347-.262-5198 or contact customer service at 1-800-334-5321 or visit wholesale.elegantbaby.com for a full list of Sales Reps and showroom locations.
Q&A
What inspired this decision? What made it the right time?
With the revival of the Main Street economy and the resurgence of America's small businesses as the backbone of many communities, we felt that this venue would be a beautiful showcase for our product and allow us to become a part of this revolution. We think this space truly creates an opportunity to connect and collaborate with the specialty retailers in a way that can't be duplicated on the phone or online.
Where will the new showroom be located? What's the size in square feet?
We've brought the new showroom to AmericasMart Atlanta. It is located in Building 3 on the 13th floor suite 336A right off the main elevators at the entrance to Summer Place. The showroom is about 900 square feet.
When is its official debut? 
We are excited to announce that the showroom is live and was launched on June 1, 2018.
Describe the aesthetic of the showroom and its offerings. Why should buyers stop by? What makes it special?
The showroom reflects the warm and inviting, yet modern appeal of our line. It has given us the ability to showcase and merchandise our line similar to a retail store. We have filled it with wonderful high-quality products for new parents and grandparents, as well as gift-givers both personal and corporate. It is an excellent opportunity for buyers to come by, kick their feet up and find some visual inspiration for decorating and merchandising their stores.
The showroom offers a unique and eye-catching design by blending the elegance and sophistication of the brand with subtle hints of fantasy throughout the space. We have created an inviting atmosphere for buyers within our modern design and by intentionally merchandising each area of our showroom. The aesthetics of the room feature touches of whimsical elements – buyers are met with floating clouds, twinkling stars, and natural materials to reflect the soft side of our baby line. We encourage buyers to have a seat when they stop in and enjoy the ambiance while discovering all of the beautiful products Elegant Baby offers our various customers.
How will this showroom improve business? Talk about your goals moving forward.
The showroom will give us more visibility and touch points with the specialty market. We are looking forward to being able to learn from these amazing buyers who have a real connection with their customers. Our goal is to continue to grow and evolve, becoming part of the communities that we serve.