July 20, 2018 – Children's Club returns August 5th through 7th to the Jacob Javits Center, New York with a selection of the best children's brands across newborn to age 12, layette items, fashion accessories, footwear, toys and gifts.
This August, the show debuts a new destination, CURATE, which will highlight elevated children's collections from the Spring-Summer 20 19 season and will serve as a the destination for retailers to engage with the most innovative designers in children's fashion.
"Our mission for 2018/2019 is to build the momentum behind the children's wear market and unify the children's community on both a domestic and global scale. The launch of CURATE is the first step in developing more aspirational neighborhoods that continue our mission to reimagine the children's market," shares Shawn Hazan, VP and Brand Director. "The area will offer our retailers a platform for exploration, discovery and networking with an elevated selection of well-merchandised brands. We're launching CURATE with over 45 internationally inspired collections in August 2018, an unprecedented representation for Children's Club."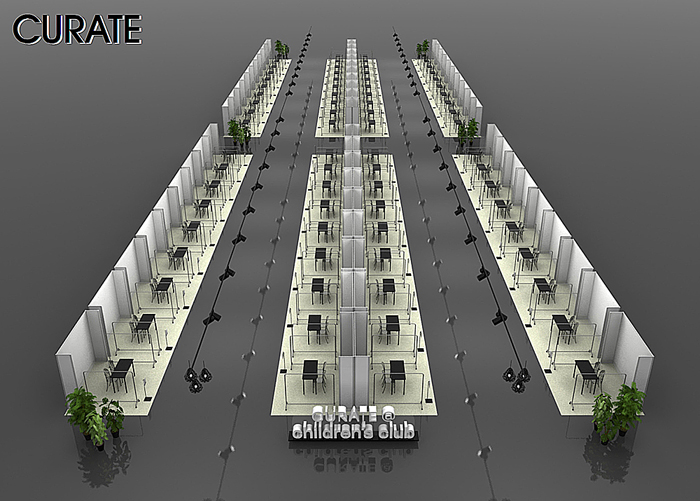 CURATE @ Children's Club will be featured as a neighborhood at the entrance to the show. The area will feature over 45 internationally recognized brands from Italy, France, Spain, Portugal, Romania, United Kingdom, Denmark, Belgium, Sweden, The US, Canada & Turkey. Brands to look out for include: 3 Pommes, KENZO, Lil' Lemons by For Love and Lemons, Petite Coco, Tartine et Chocolat and actress and lifestyle expert Haylie Duff will also be at the show with brand, Little Moon Society.
Additional features and happenings include:
-The Classroom @ Children's Club: In response to ongoing conversations with both brands and buyers, Children's Club launches The Classroom, an ongoing educational experience designed to address hot topic items impacting the Children's Community.
-SUNDAY, AUGUST 5TH @ 5PM – THE CHILDREN'S CLUB CAFÉ
Enriching our community, a roundtable conversation for brands & buyers that include: Heaven, Carmel California – Ash Vasanji (A unique approach to merchandising & buying), Ron Robinson, Los Angeles California – Jennifer Romis (Customer Centric Loyalty) and Garage, Scottsdale, Arizona, Katie Wilson (Focus TBD)
– MONDAY, AUGUST 6TH @ 4PM – THE CHILDREN'S CLUB CAFÉ: THE DIGITAL EVOLUTION OF BRICK-AND-MORTAR: A GLOBAL CLIENTELE – petiteTALKS, a division of petitePARADE continues to move the children's industry into the future by leading a discussion & Q&A with a panel of bloggers, retail and design influencers to understand the rapidly evolving digital world of branding and retailing. A discussion with moderator Lauren Zodel, of the Fashion Institute Of Technology.
– THE NUK:The Nuk, an engaging lounge space, has been designed to allow our community to recharge, relax, network & engage during market this season. Within The Nuk brands and buyers will find:
– COLOR ME HAPPY WALL – Do something with your hands that you haven't done since you were a kid! Our seasonally themed life-sized coloring book and Instagram moment is a great place for retailers to unwind as well as to gain margins from participating brands.
– SHARING BOX – The Children's Club + Sharing Box have teamed up this season to make the most of your memories during market. Stop by The Nuk to take fun photos and learn how these cutting edge retail experiences can attract more interest in your store while collecting customer data!
– RECHARGE BAR – While @ The Nuk, charge your phone in our secured charging locker. Each user will be able to access the charging locker by creating their own combination right from the privacy touchscreen. This small and sleek locker can also be branded in your showrooms and retail stores!
– CONTENT SCREENS – While in the NUK, be sure to watch our CC Content monitor for information on show happenings, digital brand books, Classroom Seminars and more to stay in the know!
– THE EARNSHAWS EXPERIENCE: Stop by the Earnshaw's Experience in the Children's Club Café and place your votes for this year's Earnie Award nominees as well as meet the team behind the industry's longest standing magazine to discuss how to elevate your business. The Earnshaw's lounge will feature an inspirational vignette on this season's trends, styled exclusively by the talented team at Earnshaw's.
– UNICORN NATION POP UP SHOP: CURATED BY IT'S A KIDSWORLD MAGAZINE: The Unicorn has become increasingly popular by evoking thoughts of magic, color and in representing something unique and special. Curated by It's a Kids World Magazine, shop this trend inspired pop-up in front of aisle 3000 where you can find brands that showcase this fun trend. Unicorn Nation encourages you to enter the mystical world and see the latest expressions in Unicorn related collections.
– SHOW BAGS AND DIRECTORIES: Be sure to pick up this season's limited-edition show bag by Little Me & newly created Show Guide – Available @ Children's Club registration during show hours while supplies last! Visit Little Me on the show floor.
– FRESH @ CHILDREN'S CLUB: In response to retailer request, Children's Club is proud to feature over 100 new, emerging and never seen before collections at market. Make a point to stop by the following brands to see these exciting, FRESH collections @ Children's Club
For more information, please visit: www.ubmfashion.com.