ON THE INSIDE WITH TINA BARRY
Pressing Issues at the 63rd Annual National Stationery Show - Part II
DESKTOP ACCESSORIES:
KEEPSAKE BOXES
TREE BY KERRI LEE
Homebase: Long Eddy, NY
DESIGNER: Kerri Lee-Sensiba
Wholesale prices for Mommy-To-Be boxes: $19
Every season Lee-Sensiba spins out new, playful home décor and amusing gifts that combine a love of vintage style and clean, modern lines.
Outstanding product: The Mommy-To-Be boxes begin as a "countdown to baby." Once the new family member arrives, the box becomes a permanent calendar for the nursery.
Tel: 845-887-6165
E-mail: Info@treebykerrilee.com
MADE WITH LOVE BY ORNELLA
Homebase: Carrollton, TX
DESIGNER: Ornella Maritato
Wholesale prices for boxes: $20
Maritato's collection of hand painted wooden boxes, eco-friendly cards, notepads and soon-to-come wrapping paper, onesies, and textiles, reflect her love for art and nature.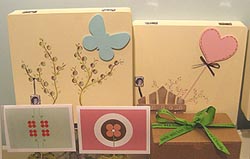 Outstanding product: The hand painted wooden keepsake boxes are ideal for holding a child's or parent's treasures.
Tel: 972-395-0504
E-mail: Info@maddewithlovebyornella.com
MISCELLANEOUS:
PAPER DOLLS/ODDITIES
9 SPOTMONK
Homebase: Glen Rock, NJ
DESIGNERS: Vivian and Tiffany Leung
Wholesale prices for Placemats: $12 for a set of 24 and three crayons
The designing Leung sisters offer all sorts of eco-friendly cards, journals and kids' items. Their letterpressed designs have a bold, graphic presence.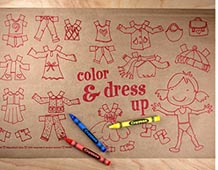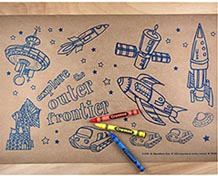 Outstanding product: Printed on 100 percent, heavy weight recycled paper, the Dress Me Up placemats do double-duty as paper dolls. Color in the apparel, cut out the shapes and the little dolls have a personally designed wardrobe. Boys can explore the galaxy with Space Travel, a placemat illustrated with space ships.
Tel: 201-795-1668
E-mail: tiffany@9spotmonk.com
EGG PRESS
Homebase: Portland, OR
DESIGNER/FOUNDER: Tess Darrow
Wholesale price for Pearl paper dolls: approximately $18
Egg Press celebrated its 10th birthday this year. Considered a founder of the modern letterpress printing, the Portland-based company bridges classic printing techniques with modern motifs and colors.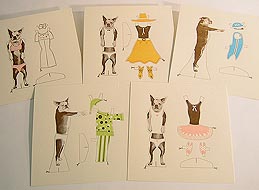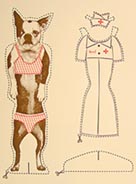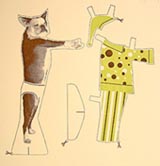 Outstanding pieces: Oh for the love of Pearl. The charming Pearl, a beefy Boxer in need of a stylist, goes glam with a set of beautifully illustrated, au current clothing for all occasions. Girls will love the set. So will their moms.
Tel: 503-234-4256
E-mail: information@eggpress.com
CHRONICLE BOOKS
Homebase: San Francisco, CA
DESIGNER: Suzy Ultman
Wholesale price for Paper Doll Parade: approximately $7.50; wholesale price for Home Sweet Home: $24.95
Chronicle Books brings gift books, How Tos, all sorts of creative games, journals and note cards to the adult and children's markets.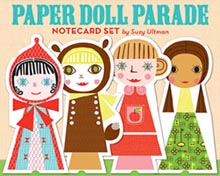 Outstanding pieces: With children glued to computers and iPods, anything that harkens back to a simpler time is appreciated. That's one reason Suzy Ultman's illustrations, reminiscent of the naïve wood cuts of the 1950s and 1960s, are so appealing. Her Paper Doll Parade, a collection of die-cut note cards that come with coordinating accessories, brings back memories of hours spent drawing and cutting clothing for paper dolls. (Available September 2009.)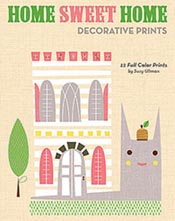 Home Sweet Home, a collection of 12 full-color 12" x 16" posters, can be framed or perused as a book. (Available October 2009.)
Tel: 800-759-0190
E-mail: order.desk@hbgusa.com
GAMES:
SELLERS PUBLISHING
Homebase: Portland, ME
CREATORS: Jennifer Nolan and Tory Dietel Hopps
Wholesale price for "Spintastik": approximately $10
Assigning chores can be fun if you use "Spintastik." The board game allows a child to spin the arrow on the spinner's wheel to assign either chores such as "kitchen helper" or "dish dusty," or receive treats like "invite a friend," and "earn a buck." There are three blanks so parent and child can create their own tasks (a dry erase surface and marker makes it easy) and a guidebook is provided that offers suggestions to motivate the family. The colorfully illustrated game has won several awards including Learning Magazine's Teachers Choice, 2007; iParenting Media award for Best Product, 2006; Parent to Parent Adding Wisdom Award, 2006 and ForeWord Magazine's Book of the Year, 2005.
Tel: 800-625-3386
E-mail: Rsp@rsvp.com
Originally published June 21, 2009
Back to Tina Barry