ON THE INSIDE WITH TINA BARRY
Children's Club January 2010: Early Fall 2010 - Hope You Like Purple - Part IV
SPORTSWEAR:
SAURETTE
Homebase: New York, NY
DESIGNER: Lisa Kanouse
Sizes: 2 to 12 years; Wholesale prices: $15-$55
Working in her trademark palette of rose, plum and gray, Kanouse crafts a collection of separates that are at once girlish and sleek. For fall, she's collaborated with LA artist JAW Cooper on a series of illustrations that are appliquéd on her wovens and knits. The drawings depict fairies and other wood lawn creatures. They're delicate and slightly edgy in a soft, hipster kind of way. Which just proves, you don't have to be rock 'n roll to be cool.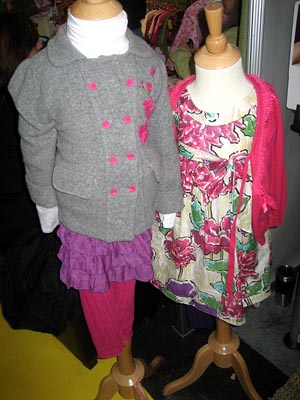 Outstanding pieces: The double-breasted sweater with the floral embroidery makes a perfect partner to the flouncy skirt and leggings and would look just as chic over jeans. That dress, with the pretty empire waist and bold print, mixes strong color with a dramatic print and yet I wouldn't call it loud. Nice balancing act.
JAW Cooper's beautifully rendered deer is sweet without being cartoony. The piece lends a note of delicate whimsy when paired with a skirt or jeans. (Photo courtesy of Patrice Nelson)
Thread Showroom
Tel: 212 801-2387
TEA COLLECTION
Homebase: San Francisco, CA
DESIGNER: Emily Meyer
Sizes: Girls and boys NB to 8 years; Wholesale prices: $10-$41.50
Meyer's travelogue of a collection features Old World embroidery, shapes and patterns inspired by Hungary and Romania, folk art and every manner of handcrafts. She's never had a less than stellar season and Fall 2010 is no exception.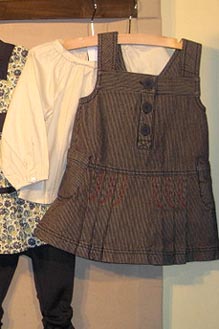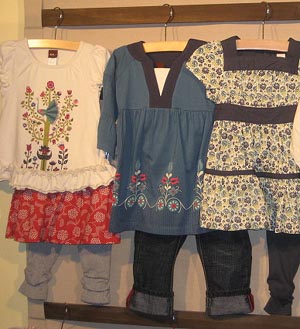 Outstanding pieces: The Folk Art collection's peasant roots may be obvious, yet there's nothing costumey about any of the garments. They're simply great, beautifully colored designs with a sense of history.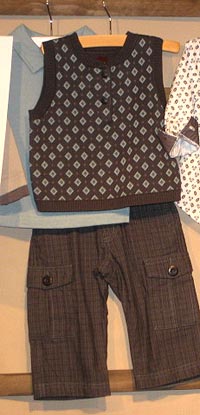 Boys layer on Hungarian Holiday pieces and, like the Folk Art collection, they look contemporary.
Tel: 415 621-9400
E-mail: Info@teacollection.com
OILILY
Homebase: Holland
DESIGNERS: The Oilily design team
Sizes: NB to 8 years; Wholesale prices: $15-$238
Oilily is back! Yes, they're back and with a collection so strong, so beautifully colored and embellished you'll wonder how you got along without them. They're working the "little rich girl lost in the forest" theme with folkloric embroidery, a palette of dark red, midnight blue and rose, lots of velvet, wool and faux fur - everything you remembered and loved about Oilily.
Outstanding pieces: I'll let the pictures do the talking: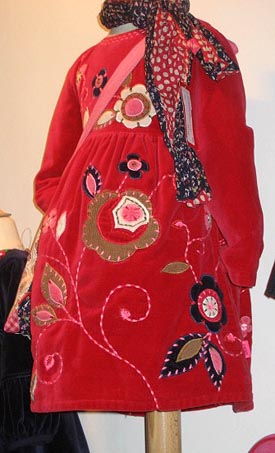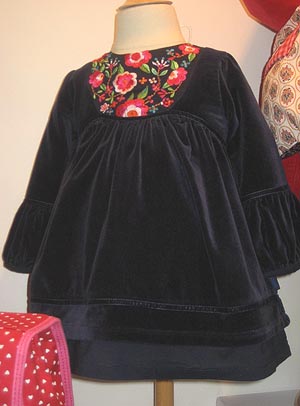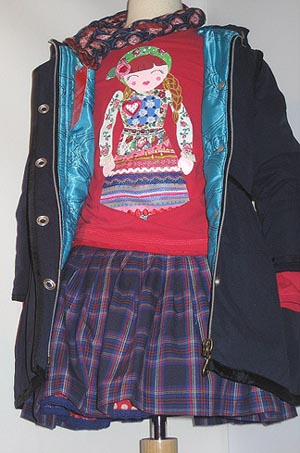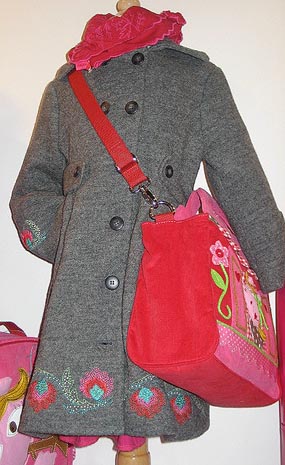 Bag from Room Seven.
Enough said?
Tel: 928 445-6540
E-mail: info@oililywholesale.com
STELLA INDUSTRIES
Homebase: Los Angeles, CA
Sizes: 12 months to 14 years; Wholesale prices: $18-$37
DESIGNER: Ary Park
Park's designs are always cutting edge yet they're never overly flashy or trendy. That's especially true this season, when she takes the most fashion forward materials and patterns: tulle and big plaids, for instance, and instead of doing the usual tutu or men's wear style shirt, she creates a delicate A-line skirt and jacket with simple lines.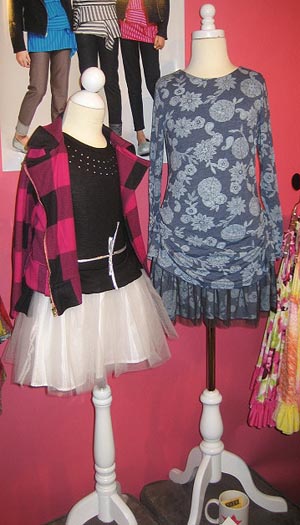 Outstanding pieces: The jacket is casual yet it pairs perfectly with a slim tee and refined tulle skirt. I'm impressed with the way the knit fabric of the dress drapes over the hips, giving the piece low-key drama.
Tel: 213 627 2676
E-mail: Info@stellaindustries.com
*Collections with organic products
Originally published January 25, 2010
Back to Tina Barry