ON THE INSIDE WITH TINA BARRY
Spring/Summer 2011 Vogue Bambini/Children's Club Fashion Show: Ready for a 'Caribbean Summer'
A tropical "Caribbean Summer" warmed the runway at the recent Spring/Summer 2011 Vogue Bambini/Children's Club Fashion Show (October 3, 2010). Well-behaved young models - some loving the limelight, a couple bug-eyed with fear - strolled the makeshift beachfront in outfits that ranged from funky playwear to dreamy special occasion dresses. In keeping with the show's theme, the looks reflected carefree days at the beach, with a few with touches of glamour.
Special thanks to Vogue Bambini and Teanna Woods for the gorgeous photos (teewoodsphotography.com).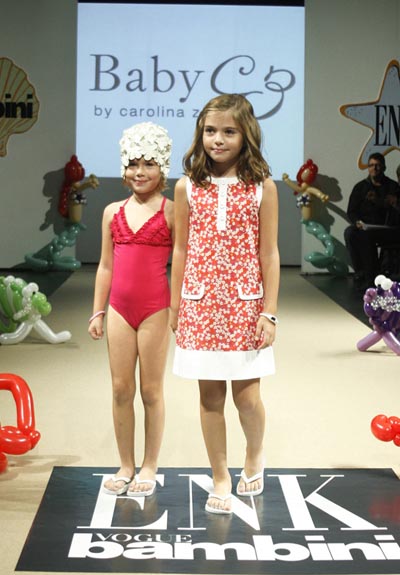 Baby CZ by Carolina Zapf's ruffled bathing beauty and its opposite: the classic sheath dress.
Petit Couture's Mid-Century modern dress with tulle trim.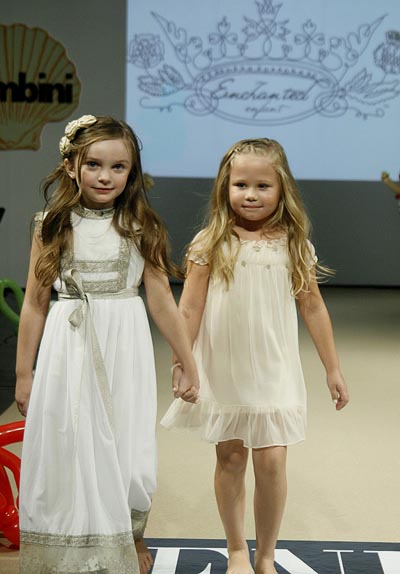 Creations from Enchanted Enfant could lure Poseidon from the sea.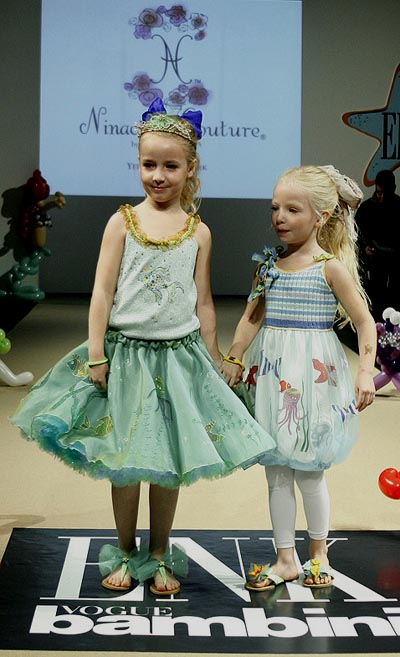 Mermaids take human form in art-to-wear pieces from newcomer Ninachka Couture.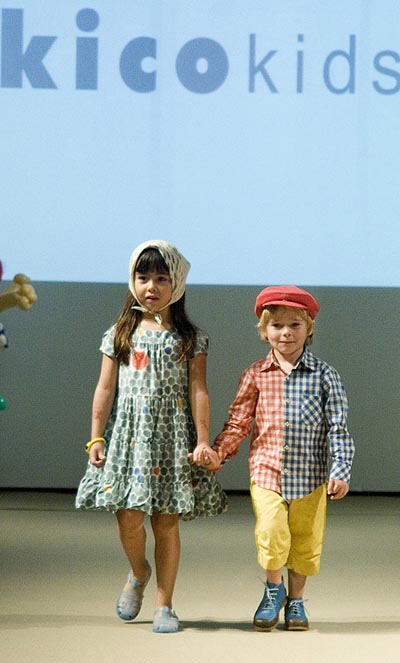 KicoKids ready-for-a-picnic silk polka dot dress and boy's half red/half blue gingham shirt and bright yellow trousers.
Zutano's bright-as-tropical-fish outfits.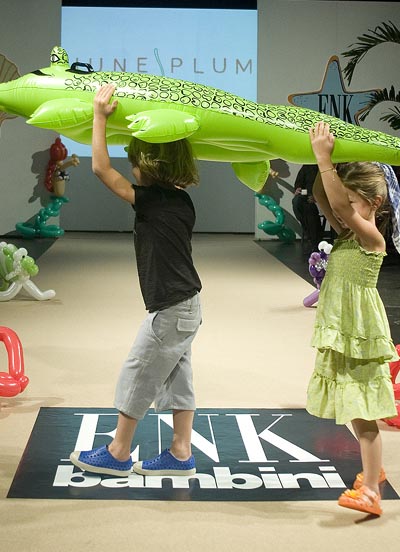 Dressed for croc-hunting or any casual outing in separates by June Plum.
She can do anything in Ambition's bright, cartoon-printed tank and capris.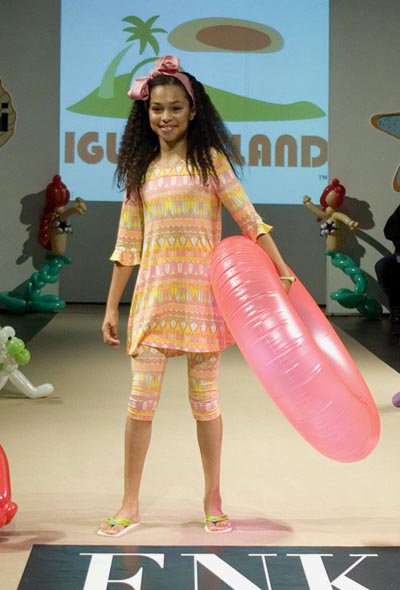 Igloo Island's knit separates in delicious sorbet tones.
Kissy Kissy stays true to the classics with this easy flowered knit dress and boy's Grand Prix-patterned set.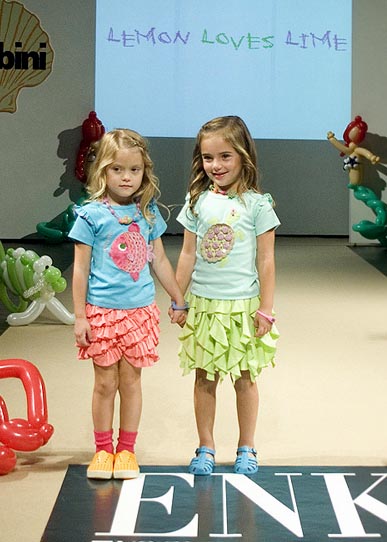 Separates as pretty as sea glass from Lemon Loves Lime.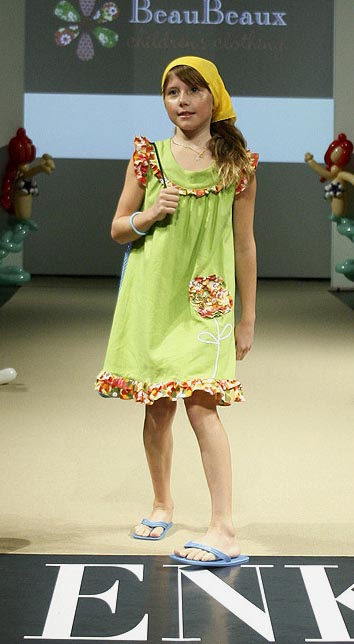 Beau Beaux's little retro number.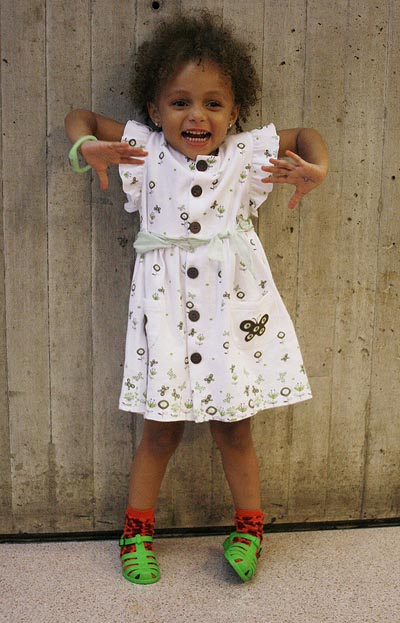 Tiny butterflies alight on SnoPea's cotton knit dress.
Pattern-happy pieces from Imoga.
Ready for the beach in Floatimini's whimsical separates and swimsuit.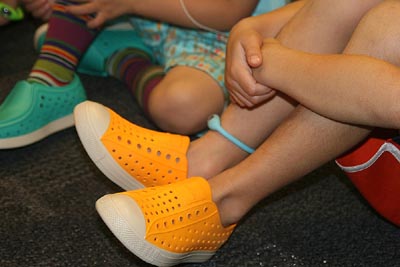 Native Shoe's light, waterproof slip-ons in "can't miss em" colors.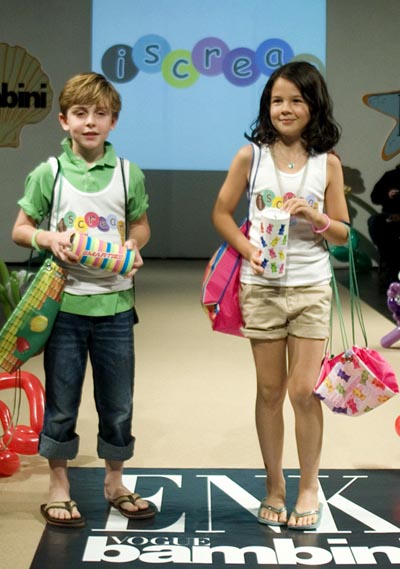 No outfit is complete without Iscream's colorful backpacks, jewelry and fun candy boxes.
Originally published October 20, 2010
Back to Tina Barry