ON THE INSIDE WITH TINA BARRY
At the 2010 ABC Kids Expo in Las Vegas: Apparel Collections
No single trend stood out in the apparel collections at ABC Kids Expo. Designers exhibited styles with a touch of nostalgia, as well as lines with clean, modern shapes and of-the-moment colors. Regardless of their slightly higher price-points, organic materials appeared in apparel and many categories at the show.
2 RED HENS STUDIO
Homebase: Brighton, CO
For each of her one-of-a-kind "Castoff Couture" creations, designer Lori Burley employs "used-up-and-worn-out" materials. So a smock can be fashioned from old bed linens and a jacket might have a combination of a tablecloth and cashmere sweaters. Her garments will remind you of who you were then, and what kind of design you admire now ($12-$102 wholesale, fits 1 to 5 years).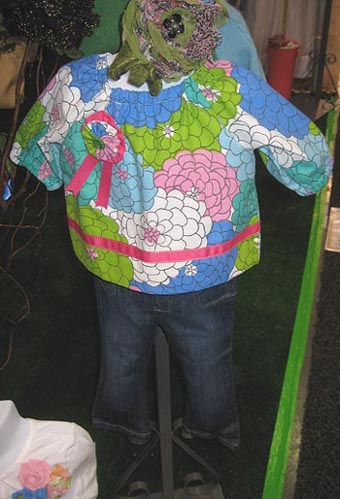 Tel: 303 331-0909
E-mail: Lori@2redhens.com
BABY BELLA MAYA
Homebase: Newbury Park, CA
The little diva on the mink throw models Marta Sala-Rothwell's ruffle-trimmed one-piece in Pink Champagne with a matching bow (approximately $20 wholesale, fits NB to 6 months). The items are part of a three-piece gift set that includes matching pink-trimmed booties. The items are sold in a heart-shaped gift box.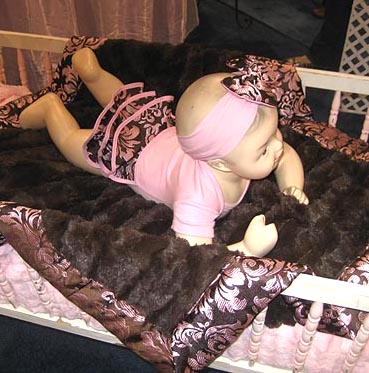 Tel: 805 498-1914
E-mail: Lynn@babybellamaya.com
HOPSCOTCH DESIGNS
Homebase: La Mesa, CA
Jennifer Williams has an iconoclast's color sense and a knack for blending vintage and new fabrics. Her multi-print, textural confections ($22-$60 wholesale, fits 12 months to 7 years) have the shape of a traditional party dress without stiffness.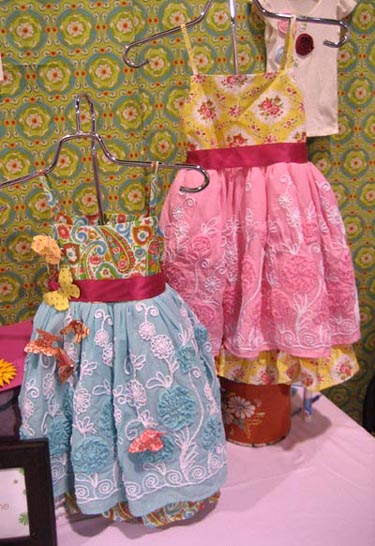 Tel: 619 884-2222
E-mail: Info@hopscotchdesigns.com
JANNUZZI
Homebase: Fountain Valley, CA
Rose Jannuzzi focuses on the perfect, adorable yet irreverent gift item in her collection of blankets, T-shirts and cotton knit sets. Black grounds give her Ruffle Tutu and boy's skull one-pieces an edge. ($13-$27 wholesale, fits NB to 6X)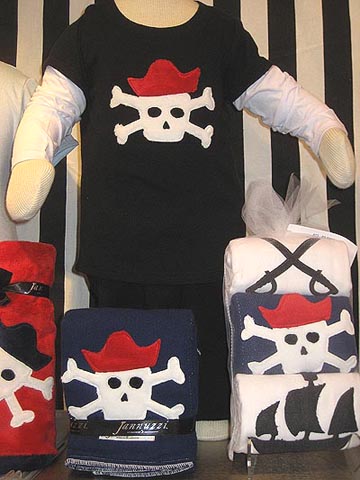 Tel: 714 964-4395
E-mail: Info@jannuzziclothing.com
191 UNLIMITED
Homebase: East Brunswick, NJ
Jonathan Grey's 191 Unlimited collection of body-conscious boys' shirts in fashion-forward plaids and neutral solids, and lean pants make a great addition to hip boys' offerings in trend-driven shops. ($17-$19 wholesale; fits 2T-20)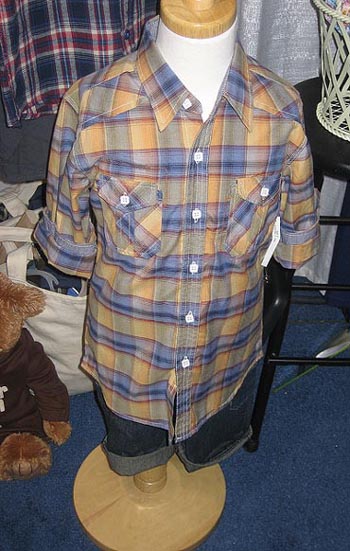 Tel: 818 793-4749
E-mail: 191clothing@gmail.com
PEA SOUP ACCESSORIES FOR KIDS
Homebase: Deerfield, IL
The designers Marcy Cohen and Lori Rockoff of Pea Soup Accessories added coordinating rhinestone tanks to their collection of sparkly hair accessories ($13 wholesale for tanks, $6 wholesale for headband, fits 2 to 12 years). Tweens and teens should relate to the text initials: "OMG," "LYL" and "XOXO".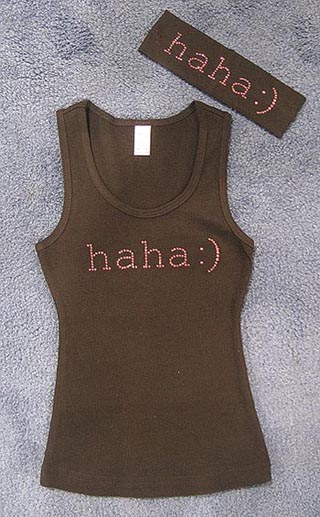 Tel: 847 317-9770
E-mail: Sales@peasoupaccessories.com
PLUIEPLUIE RAINWEAR
Homebase: Union City, CA
How to combat the gloom of a rainy day? Pluie Pluie's printed rain coats, umbrellas and boots ($8.50-$21 wholesale, fits 12 months to 8 years) brighten a gloomy day.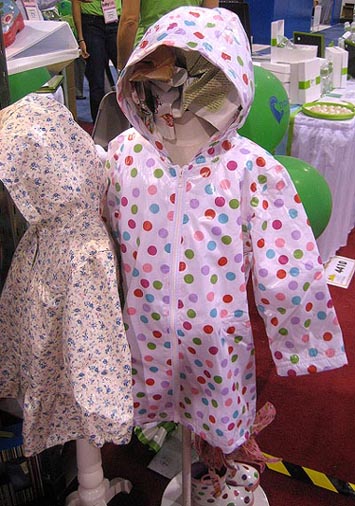 Tel: 510 489-2681
E-mail: Mail@im-link.com
POEME & POESIE
Homebase: Irvine, CA
Newcomers Saranga Weerasuriya and Kumari Sangakkara debuted with Poeme & Poesie, a delicately colored collection of organic cotton infantwear ($22-$80 wholesale, fits NB to 24 months). Each uncluttered shape is entirely hand-stitched in Ceylon and features tiny embroidered flowers and animals.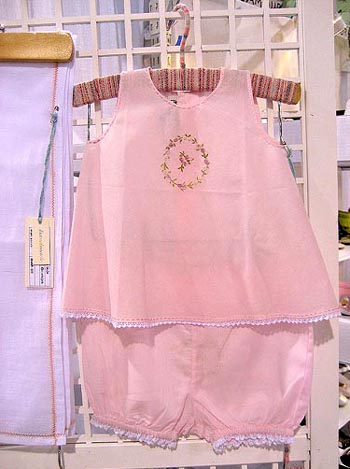 Tel: 949 394-6620
E-mail: Saranga@poeme-et-poesie.com
SAGE CREEK
Homebase: Tarzana, CA
The Sage Creek designers introduced several organic cotton knit groups for spring ($5-50-$27.50 wholesale, fits NB to 4T). New to the line are hip graphics, like the Jacob tee with playful pirates. One girl's group features a scattered dot print and a vibrant peach, sky and white color palette.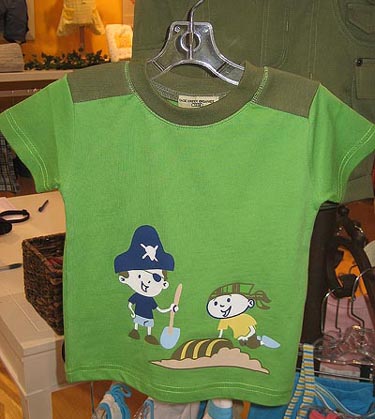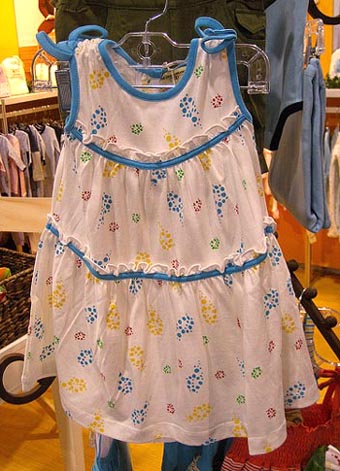 Tel: 877 513-2183
E-mail: Sfox@sagecreekorganics.com
WOBABYBASICS
Homebase: Shanghai, China
No prints or bright colors. Newcomer Sherry Poon's WoBabyBasics beguiles with a collection of reversible organic cotton pieces in soft tones and elegant shapes ($3.50-$23.25 wholesale, fits 3 months to 6 years). The piece shown goes from skirt to strapless top as the girl grows.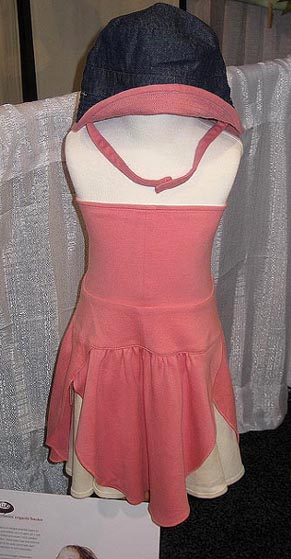 Tel: 862154037170
E-mail: Spoon@wobabybasics.com
ZEBI BABY
Homebase: Windsor, CA
Stacy Phillips' designs celebrate the motifs and color palette of mid-century textile art while her shapes have clean, modern appeal ($9-$17 wholesale; Eco-certified materials and production. Fits 3 months to 4T). The cans make attractive store displays as well as no-need-to-wrap gift items.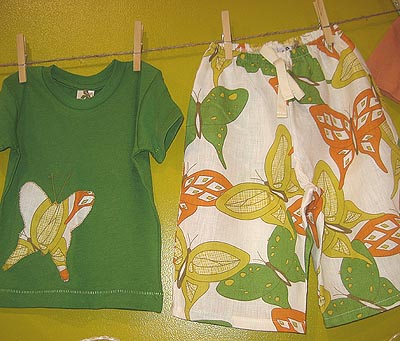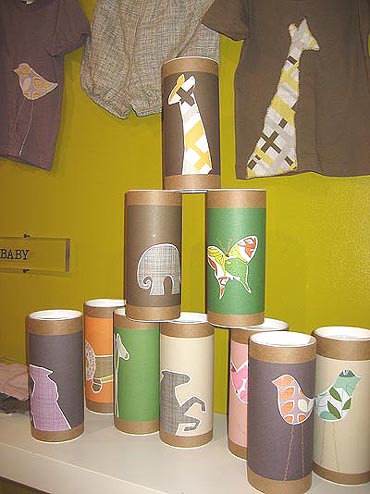 Tel: 800 269-3512
E-mail: Info@zebibaby.com
Originally published November 15, 2010
Back to Tina Barry