BETWEEN THE SHOWS BY TINA BARRY
Between the Shows: December 20, 2008
Editor's Note: Some of our sponsor companies prefer to keep their children's businesses out of the national and regional trade show circuits (or at least not attend all the shows every season). So to keep you abreast of collections you won't find (or find infrequently) in trade venues, we've started this new column. We think you'll like our "Between the Shows" reviews as much as you've told us you enjoy our "Trade Show Reports" coverage.
JUNEBEE BABY
Homebase: Hoboken, NJ
DESIGNER: June Sayali
Sizes: NB to 3T; Wholesale prices: $30-$50
Mothers often make the best childrenswear designers. They're the ones on the front lines who see whether a garment is comfortable or constricting for their tot. Sayali, the mother of a two-year-old son, and the designer/founder of JuneBee Baby, a boutique collection of handknits, had an "Ah-hah!" moment when she noticed that her little boy was happiest wearing rompers and bodysuits. "My son can move easily, bend, sit down and stand up without feeling any discomfort from a tight waistband," says Sayali. The sizes of most manufacturers' rompers though, stopped at 24 months. To keep her son - and the boys and girls of mothers like herself - happy, she extended the size range to 3T and knit the garments in pure, washable cotton.
Besides rompers, Sayali, who lives in the New York area, is a fan of the sweater vest. "The sweater vest is an ideal garment because you can wear it almost anytime including the summer months when the air conditioning is blasting. That's why I created the classic vests with a trendy yet authentic look," she says.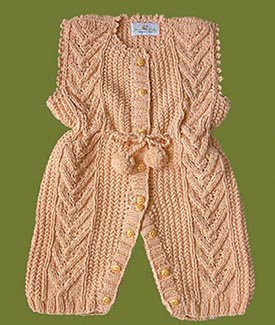 The chunky knit Pompom romper in soft peach possesses that grandma made it, handcrafted feel. Layer it with a tee or turtleneck and baby is set for the chilliest days.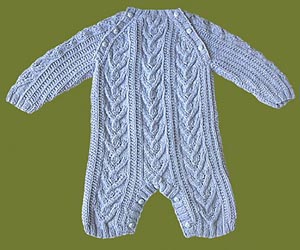 The Heirloom bodysuit in pale blue is the answer to complete coziness.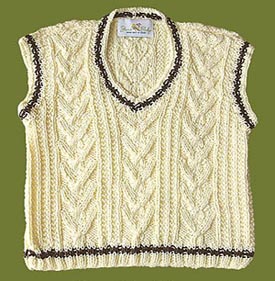 Layer the Bambino Sweater over a button-down shirt or turtleneck for warm and elegant dressing. When the temperature heats up and the air conditioning is on full-blast, just throw it over a T-shirt and the boy is good to go.
Tel: 888-JUNEBEE (888-586-3233)
E-mail: Junesayali@junebeebaby.com
Originally published December 20, 2008
Back to Between the Shows Home