ON THE INSIDE WITH TINA BARRY
Bubblelicious: Spring 2007 Finds Designers in Good Form
There was a buzz of excitement at the second Bubble Kids Trends Observatory held August 6-8. Buyers and retailers were in attendance offering the approximately 45 vendors positive feedback for good reason. Designers, who arrived in the Chelsea, New York loft space from as far away as Russia, displayed small, well-edited lines with a common aesthetic. The manufacturers expressed their modern take on kids' clothing through clean, uncluttered shapes and gorgeous fabrications often colored in muted tones.
To discuss prevalent trends at the show is to miss the point - these manufacturers work from the inside out. They may be aware of color trends and pattern direction, but their items are more about personal expression than seasonal trends.
SPORTSWEAR
ALBERT
DESIGNERS: Edie Ure and Ulla Johnson
Sizes: Infant to toddler; Wholesale prices: $17-$40
The Albert collection is soft, feminine and colored in delicate shades of dusty peach, light cocoa, washed mauve and cream.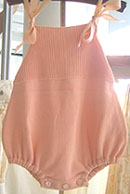 Outstanding piece: I don't know if it's the fineness of the knit, the silk ties at the shoulder (what better way to show off plump baby arms?), or that bubble shape, but this little number makes my heart race.
Tel: 917-400-6078
E-mail: edie@albertnewyork.com
BLACK RABBIT
DESIGNER: Marguerite de Balincourt
Sizes: 2T-7 years; Wholesale prices: $18-$52
De Balincourt pairs neutrals sparked with red in her collection where Asian touches meet Seventies femininity.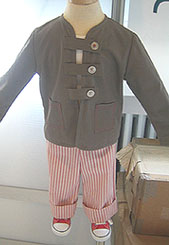 Outstanding pieces: This gray three-button jacket takes a playful turn when teamed with cuffed pants in a happy red and white ticking stripe.
Tel: 323-314-9210
E-mail: Marguerite@myblackrabbit.com
BLUEBIRD
DESIGNER: Stephanie Scarpulla
Sizes: 2-12; Wholesale prices: contact manufacturer
Scarpulla's modern-by-way-of-the-prairie collection fit right in at Bubble.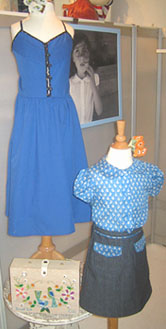 Outstanding pieces: Scarpulla works royal blue, the season's "it" color, into the dress, piping it in black for a little edginess; she sweetens the vivid hue with a Peter Pan collared blouse and coordinating denim skirt.
Tel: 415-206-1107
E-mail: info@bluebirdcollection.com
BU AND THE DUCK
DESIGNER: Susan Lane
Sizes: NB-4; Wholesale prices: $22.50-$70
Lane focuses on the 1930s, so every item has an authentic vintage appeal.
Outstanding piece: Remember the samplers grandmothers created to practice their stitch techniques? This lovely lilac and white striped sundress is a sampler of sorts with at least ten different embroidered designs.
Tel: 212-431-9226
E-mail: katoc@att.net
CHASE 'N SKY
DESIGNER: Lindsey O'Neill-Myers
Sizes: 2-6; Wholesale prices: $10-$39
In her debut collection, O'Neill-Myers keeps the colors soft and the prints small so she can mix it up without her items looking busy.
Outstanding piece: A cowboy print meets its match with delicate aqua polka dot.
Tel: 808-775-1431
E-mail: chasenskybaby@chasensky.com
ISMODERN
DESIGNER: Tami Nguyen Rael
Sizes: 2-10; Wholesale prices: $20-$82
Bold, modern prints, clean shapes and a touch of luxury define Rael's sportswear collection.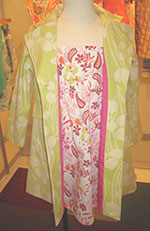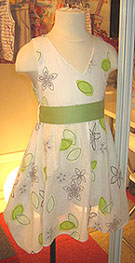 Outstanding pieces: The lime leaf printed coat is lined with hot pink for a flash of excitement. It's great over the paisley dress, or, let the lime ribbon on the dress tie the cool toned prints together.
Tel: 310-401-0365
E-mail: tami@ismodern.com
JOLIE AND JANE
DESIGNER: Jodi Kato
Sizes: 18 months-4 years; Wholesale prices: $13-$36
Kato works in whisper thin cotton batiste and silky Jersey to fashion delicate separates with a touch of 1970's appeal.
Outstanding piece: A few small details like the cap sleeve and circular pockets add up to a lot of charm.
Tel: 808-306-0025
E-mail: sales@jolieandjane.com
KIT & LILI SHOWROOM
DESIGNERS: Teresa Ok and Meg Hoberman
Sizes: 3 months-8 years; Wholesale prices: $16-$55
Ok and Hoberman hand-screen and hand print their samples using the peace loving motifs and home décor textiles of the Sixties as references. (I remember that landscape pattern from my friend's rec room.)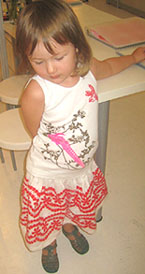 Outstanding pieces: The child in the photo may look pensive, but the tank and Woodstock era border-printed skirt is anything but. The tank and tree printed skirt share a love of nature - not matched prints - to relate.
Tel: 646-489-1963
E-mail: teresa@kitlili.com
MATTA
DESIGNER: Cristina Gitti
Sizes: Infant to toddler; Wholesale prices: contact manufacturer
There's an Indian flavor to the silky cotton, rich embroidery and hand-blocked prints Gitti utilizes for her streamlined pieces. The textiles, exclusive to her collection, are printed and manufactured in that country.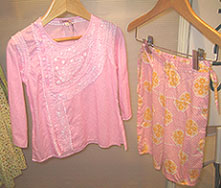 Outstanding pieces: The batiste used in this tunic is as light as a handkerchief and sports intricate white hand embroidery. The delicate top gets a bright kick paired with the orchid and marigold printed pants.
Tel: 212-343-9399
E-mail: Bentley@mattany.com
MELLY MELLO
DESIGNER: Carolina Stephan
Sizes: 2-12; Wholesale prices: $20-$50
A palette of dusty toned prints adds a sophisticated note to loose shapes and print mixing.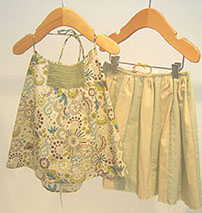 Outstanding pieces: The muted hues of the floral A-line top get a spark with a shot of teal; the striped ballerina skirt in tan and sage matches without looking too carefully coordinated.
Tel: 34 670-418-214
E-mail: mellymello@mellymello.com
MILL & MIA
DESIGNER: Melissa Chen
Sizes: NB-6 years; Wholesale prices: $14-$30
Mill & Mia may be new to domestic retailers but in Australia the company is well known for its lifestyle brand of kids' clothing, bedding, skincare and accessories.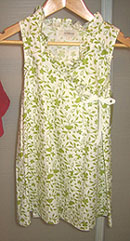 Outstanding piece: Morocco with its exotic prints and rich colors, and the folkloric imagery and clean shades of Sweden seem like opposing aesthetic influences, but Chen took references from both countries for her spring line. The wrap dress in leaf green on white is part of the Swedish Story, a group of fresh cherry red, leaf green, blue denim and white pieces.
Tel: 61 3 9510-5275
E-mail: simon@millandmia.com
MOR MOR RITA
DESIGNER: Ryan Roche
Sizes: 1 year-8 years; Wholesale prices: $16-$74
When I see Roche's collection I imagine Chopin playing quietly, a table set with scones and a fragrant pot of tea, and a fairy godmother creating one-of-a-kind pieces for a lucky few.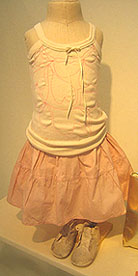 Outstanding pieces: The tank, given dimension with machine stitched floral designs, and the organic cotton skirt. Both pieces are hand-dyed and embellished by Roche (the collection's resident fairy godmother).
Tel: 718-218-6701
E-mail: mormorrita@verizon.net
SELANA OF SWITZERLAND
DESIGNER: Kurt Ladner
Sizes: Infant-toddler; Wholesale prices: $5.06-$55
Sweet cotton sportswear in soft solid colors or sweet pastels is paired with classic knitwear made of fine Merino wool, cotton and organic cotton.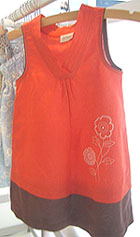 Outstanding piece: Earth tones, an interesting V-neckline and the embroidered peony lend warmth to the simply shaped dress.
Tel: 831-685-1200
E-mail: michelle@dahliadistribution.com
BOYS' COLLECTIONS
BRYCEWEAR
DESIGNER: Pamela Watson
Sizes: 12 months-7 years; Wholesale prices: $18-$45
You can count on Watson's collection for fashion forward color, great shapes and, always, a touch of whimsy.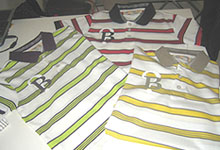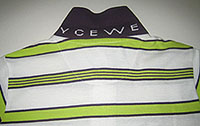 Outstanding pieces: Watson finds a simple way to ask the question: "What's the B for?" with the letter over the question mark. Flip the collar for the answer.
Tel: 347-562-2053
E-mail: pwatson@brycewear.com
T-SHIRTS
SUPER NATURAL BABY
DESIGNERS: Christie Rixford, Anna Rainer and Hajdeja Ehline
Sizes: Onesies 3 months-18 months; Tees 2-6; Wholesale prices: contact manufacturer
This tiny collection of great graphic designs and richly colored blankets, pouches and T-shirts shows a lot of promise.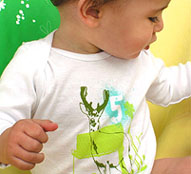 Outstanding piece: Deer in the headlights? Nature meets commerce? Whatever the message the designers are aiming for with the "Stag" tee, it's evocative.
Tel: 415-647-5089
E-mail: Christie@supernaturalbaby.com
I'MSTILLME
DESIGNER: Mackenzie Sullivan
Wholesale price: approximately $15
Sullivan specializes in useful, attractively designed, modern bags and bibs.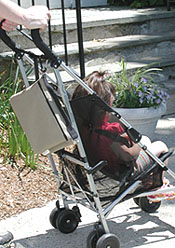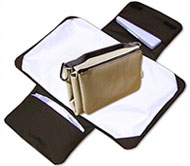 Outstanding piece: Working on the assumption that men don't "do" diapers, men's rooms in public places aren't always equipped with changing tables. That's why the DadPad is such a good idea. The bag is one thin, lightweight pouch that's just large enough to hold a changing pad and a few wipes. Its beige color looks masculine and the straps can clip onto a bike or stroller.
Tel: 203-426-8133
E-mail: info@imstillme.com
BEDDING
DUCDUC
DESIGNER: Ducduc design team
Wholesale prices: $55 for single sheet; $350 for set that includes reversible bumper, crib skirt and two crib sheets; blankets: wool $148, cotton $98.
No Laura Ashley looks here. Like their furniture, the Ducduc bedding collection is bright and contemporary.


Outstanding pieces: The sheets are 100 percent Egyptian cotton sateen with a 300-thread count. The double weight merino wool blanket with the bold B for boy, reverses from blue and brown to orange and cream. Either side looks handsome atop the blue plaid sheets. Girls get the same look with the letter G and tones of pink.
Tel: 877-5-ducduc
E-mail: info@ducducnyc.com
SKIN CARE
BASQ SKIN CARE
CREATORS: Kelli Kenny and Lauren Parisier
Wholesale prices: Skin care products $18.50-$36; Gift boxes and diaper bags $67-$170
The Basq collection is targeted to combat the issues women encounter during pregnancy: Stretch marks and itchy skin, breakouts, tired feet and restless sleep. Each of the four products in the line is formulated from essential oils and plant extracts. Herbal scents like lavender, ylang-ylang, green tea and eucalyptus soothe the senses. The products are packaged in elegant neutral toned bottles and jars that don't look the least bit cutesy.
Outstanding items: A sniff of the "Sweet Dreams Aromatherapy, a blend of lavender and pear, will have you sighing. The Rebalancing Facial Cleanser feels like deliciously silky whipped cream. You'll want to use both products forever.
Tel: 917-751-5632
E-mail: kkenny@basqnyc.com
TOYS
ZID ZID KIDS
DESIGNERS: Julie Klear and Moulay Essakalli
Wholesale prices: $6.50-$164
The couple lives and works in Marrakech, a location that's mystery and exoticism is channeled into their toys, room décor, bedding and clothing.
Outstanding items: When I was a child, the kind of doll with a skirt that could be lifted to reveal another doll beneath was something magical. I realized that toy still has the power to delight when I spotted Zid Zid's Peek A Boo dolls. One has a rabbit that reverses to a wolf; there's another with an aqua elephant wearing a bright dotted skirt - flip over the skirt to expose a cheerful monkey; and a sly fox in a fur flattering copper frock has an alter ego in the form of a crow. So much fun!
Tel: 212 44 30 05 84
E-mail: Julie@zidzid.com
Back to Tina Barry