ON THE INSIDE WITH TINA BARRY
The First Blooms of Spring 2007: New Collections at ENK
The recent ENK Children's Club show (August 6-8) was the usual mix of immediate, holiday, and early spring collections. Among the group were a few intrepid manufacturers introducing eclectic lines.
Here are seven new designers with collections to keep your eye on.
SPORTSWEAR
AMBER
DESIGNERS: Beverly Browne and Madeiline Molino
Sizes: 4-14; Wholesale prices: $22-$55
You'd guess this new line of sportswear was a European import, but it's designed right here in good old New York City.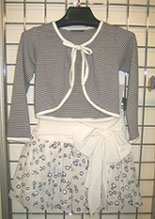 Outstanding pieces: Browne and Molino find a flirty approach to classic black and white with this topper and bow-tied skirt.
Tel: 212-391-4911
E-mail: shelly.miller1@verizon.net
BABY BOL
DESIGNER: Baby Bol design team
Sizes: NB-6 years; Wholesale prices: $12-$40
This year-old company out of Spain works textile trends in innovative ways.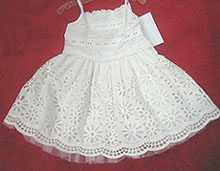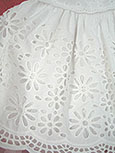 Outstanding piece: There wasn't a fresher approach to eyelet than this charming dress. Everything - from its shape to the blend of woven patterns - is pure eye candy.
Tel: 856-489-1711
E-mail: Vicky@bolichin.com
URBAN BABA
DESIGNER: Kristin Bell
Sizes: 12 months-6 years; Wholesale prices: $9-$23
Bell was a former pastry chef. Now she's whipped up this well edited collection of simple tees, clean lined skirts and dresses with just enough detail.
Outstanding piece: There's a touch of the 1930s in this dress' drop-waist and floral embellishment. The folkloric print and the subtle woven motifs on the white cotton lend richness to the piece. Lovely.
Paperdoll Style Showroom
Tel: 213-629-9874
E-mail: info@paperdollstyle.com
BOYS' COLLECTIONS
MONSTER INDUSTRY
DESIGNER: Albert Lee
Sizes: 12 months-6 years; Wholesale prices: $18 average
Lee's line mixes traditional wear with unexpected details.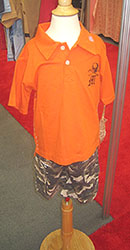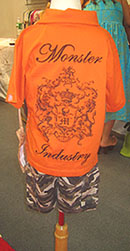 Outstanding pieces: This orange polo shirt is a tease. The front looks plain enough, with little more than the tiny printed skull and cross bones. Turn it around though, and you've got an ornate crest of sorts designed for the world's kinkiest family. It's pure catnip for boys!
Tel: 213-489-3050
E-mail: albert@monsterindustry.com
STEVEN ALAN
DESIGNER: Steven Alan
Sizes: 2-12; Wholesale prices: $20-$29
Men wearing Alan's rumpled shirts over jeans have a just-rolled-out-of-bed sexiness. When they pair the piece with a suit they exude an insouciant "I'm-in-the-office-but-my-heart's-at-the-beach" air. Now little boys can wear the shirts. (There's a girls collection, too.)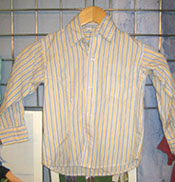 Outstanding piece: The crinkled shirts in all sorts of hip plaids and stripes.
Playground Showroom
Tel: 212-278-0188
E-mail: molly@playgroundshowroom.com, jenny@playgroundshowroom.com
T-SHIRTS
MILO IN MAINE
DESIGNER: Mark High
Sizes: 3 months-12 years; Wholesale prices: $6-$12
High takes the muted colors of the state's rugged coast and translates them into a collection of sophisticated T-shirts.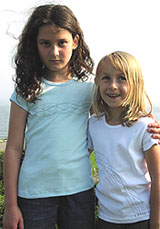 Outstanding pieces: The wave motif is interpreted with simple curving lines on two tees. A jellyfish has an eerie presence on the rich cocoa ground.
Tel: 207-332-5056
E-mail: info@miloinmaine.com
Back to Tina Barry